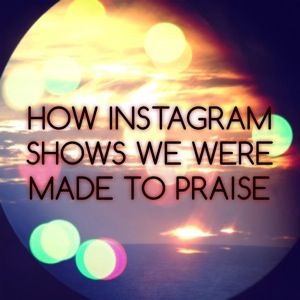 Instagram is something that has fascinated me for a while now. Back in April 2012 I wrote this, on the dangers of 'Instagramming your life'.
Now, a couple of years on, I've written a little piece over at Threads. In it I argue that part of the reason for Instagram's popularity is that we are made to praise.
Here's a taster:
Instagram's popularity indicates that we were born to praise. CS Lewis once observed: "We delight to praise what we enjoy because the praise not merely expresses but completes the enjoyment; it is its appointed consummation."

His point is simple enough; delight needs an outlet. And outlets are, by nature, external and social. Sharing isn't just 'caring' as the popular hashtag would tell us, it's also declaring. It's not enough to just know something is good, we need to let it be known.
I'd love to know what you think of the article. Why not use the Threads opinion poll to say whether you agree or not.
By the way, if you're unfamiliar with it, Threads describes itself as "a collective of Christians from all walks of life, who are living, working and trying to carve out our identity in our worlds." Go check us out.
You can read the full article at Threads here.
How Instagram Shows We Were Made to Praise