True Friendship, by Vaughan Roberts (10Publishing, 2013).
So, here's a question: When did you last read a book on friendship? In fact, have you ever even come across one? And what about a sermon or a seminar?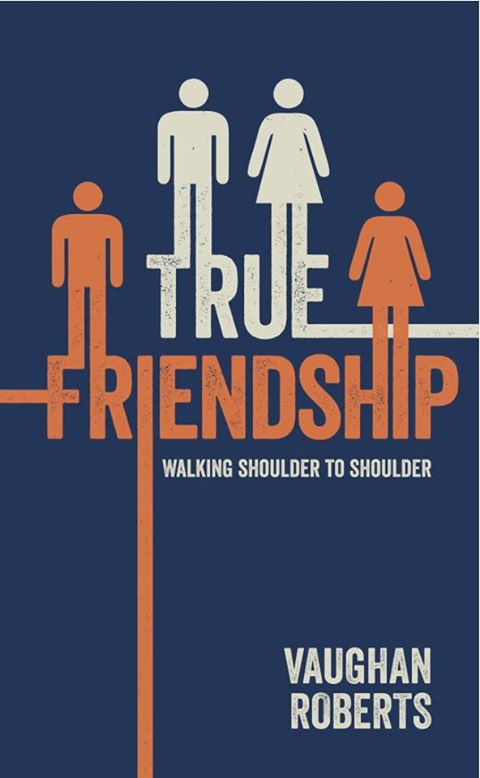 If, like me, you found yourself answering in the negative, then it seems we're not alone – author Vaughan Roberts went through a similar experience. Roberts is a church minister in Oxford and an established writer of popular-level Christian books, but he explains that this book came into being not simply because he wanted to teach on the subject, but because he came to an overwhelming sense of the significance of friendship in his own life. He speaks of the realisation that he had gone through a period of neglecting friendships without really being aware of it, and so suddenly found himself very aware of the need for meaningful friendships. Now combine this with the growing conviction that the Bible has much to say on the subject, and True Friendship was born.
A Book to Read Together…
Early on Roberts makes the bold claim that shapes the rest of the book: friendship is not an optional extra, indeed "living unfriendly and friendless lives is both a rejection of God's purpose for us as his image, and a dehumanizing tragedy". Over the course of six bitesize chapters he then proceeds to paint a surprisingly comprehensive picture of what kind of friendships God would have us foster. Each chapter reflects on a different aspect of the Bible's rich exhortation to 'true friendship', and all along it is the framework of the gospel of grace that provides its motivation, power and wisdom.
10Publishing, the publishing division of the growing Christian book-seller 10ofthose, has put out a number of brilliant little books over the last few months, seemingly hand-picking some brilliant material from evangelical pastors – and True Friendship is no exception. Clearly this is no lengthy treatise, yet as Roberts explains, the brevity is intentional. Given the nature of the subject matter, if the form of such a book could not be easily accompanied by reflective reading, and ideally communal reflection too, then surely it would have fallen short. Whether it be a summer book-group, a prayer triplet, or an accountability group, having Roberts' material on the table will set you in really good stead to discuss how best to focus those relationships.
Too strong for friendship?
Roberts' pastors' heart means he has a canny ability to push and prod exactly where one needs it. He gives a particular challenge to those of us who often desire to be seen as 'strong', perhaps who affirm the idea of friendship but always consider ourselves as the 'giver' rather than receiver. Those of us prone to this 'ministry mindset' need to remember that we need friendships too. Amongst other more subtle areas, Roberts carefully unpacks the wisdom of Scripture on the need for sensitivity and discernment in friendships, how to deal with the unspoken tensions that can arise in friendships, and how friendships and marriage might relate. In all these areas Roberts consistently notes that our temptation will be to point the finger and accuse 'them' of not being a particularly good friend. He calls us to instead challenge ourselves and ask, "What kind of friend am I?"
Arguing later that true friendship is candid, Roberts makes the timely point that if we really believed the doctrine of sin, then we'd know how foolish it is to not be open with our friends. Who are we really trying to kid about what we're really like? Here Roberts cites minister Jonathan Fletcher's 3 tips on receiving criticism, which certainly made me re-evaluate whether I'm encouraging people to challenge me. Do we foster friendships that encourage us to change and grow, or do we make it tricky for our friends to say hard things to us?
Facebook Friendship?
No current book on friendship can surely bypass the impact of social media on our thinking and practice in this area, and Roberts rightly raises concern about the effects that our use of such technology may be having. To some this may seem like old hat, but in his chapter on closeness, Roberts still serves up a fresh challenge. He tells the story of Joanne Harris, author of the novel Chocolat, who was so concerned about the effect the Internet was having on her relationships that she stopped using it completely. She'd noticed she was spending hours communicating online with people she hardly knew, leaving her with no time to see her close friends. It was an illusion, "a false intimacy that serves only to compensate for the absence of a real one." And so Roberts prompts us to ask ourselves, are we really known, or have we just succumbed to the pressures of our age and left ourselves with a gaping lack of intimacy?
Perhaps the Facebook culture encourages us to make countless contacts, permits us to call them 'friends', and thus excuses us from really investing our time and love in particular people. Roberts instead offers the challenge that true friendships involve being selective (by which he means it is important to acknowledge we can't share at a deep level with everyone), being open, being interested and being committed. He defines commitment as being about allegiance, affection and action, with most friendships growing over countless small everyday tasks and "relatively insignificant actions".
A Plea for Friendship with Intentionality…
In the final chapter, Roberts proposes that true friendship is Christ-centred, and that any friendship will become destructive if we expect it to the take the place that only Christ can fill. How do I view this friendship in relation to my friendship with Jesus Christ? Here he helpfully quotes Henri Nouwen about loading friendships with expectations that they were never meant to meet: "this deeply satisfying friendship became the road to my anguish because soon I discovered that the enormous space that had been opened for me could not be filled by the one who had opened it."
Given the aforementioned dearth of Christian material on such an everyday area of our lives, reading True Friendship is actually a really refreshing exercise. Ultimately the book is a compelling plea for friendships that are more than merely 'special interest', as CS Lewis would put it, but instead are concerned with a spiritual dimension and have a corresponding intentionality. Certainly this book isn't meant as a quick-fix, but I found it gave me a renewed vigour to have a big vision for friendship, as well as a much-needed heart-check on what kind of friendships I encourage and live out. Vaughan Roberts has done our relationships a great service by producing a resource that encourages us to think proactively about an area which perhaps, by default, we are prone to not really think about at all. Well recommended.
'True Friendship' is out and available from the publisher for £4.99 here.
Full disclosure: The publisher sent me a copy of the book for free, but I hope this is still a fair and honest review!
True Friendship by Vaughan Roberts – A Review