20 Years of Change: Looking back to Euro '96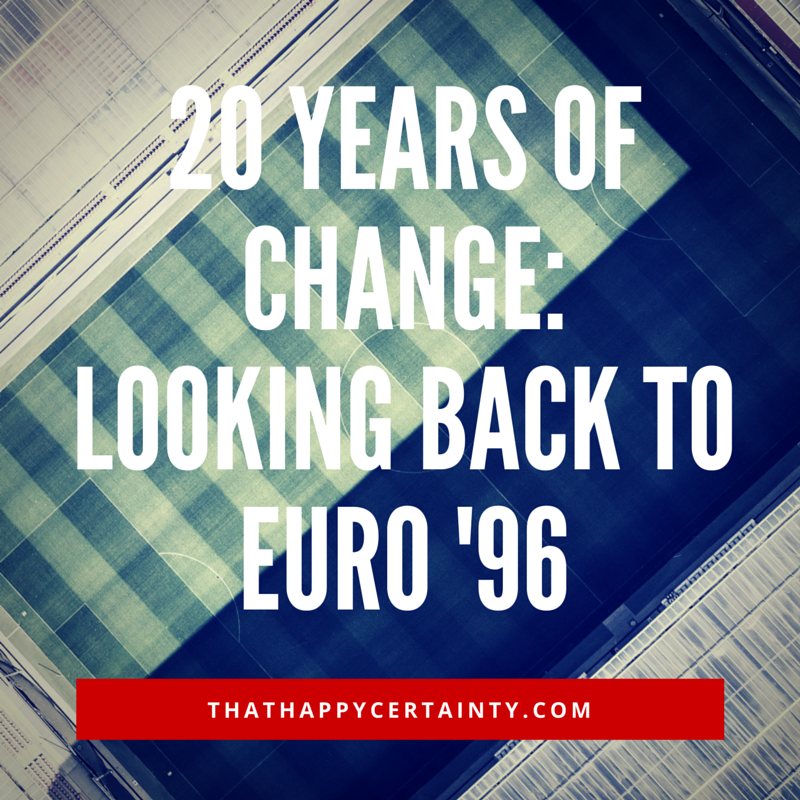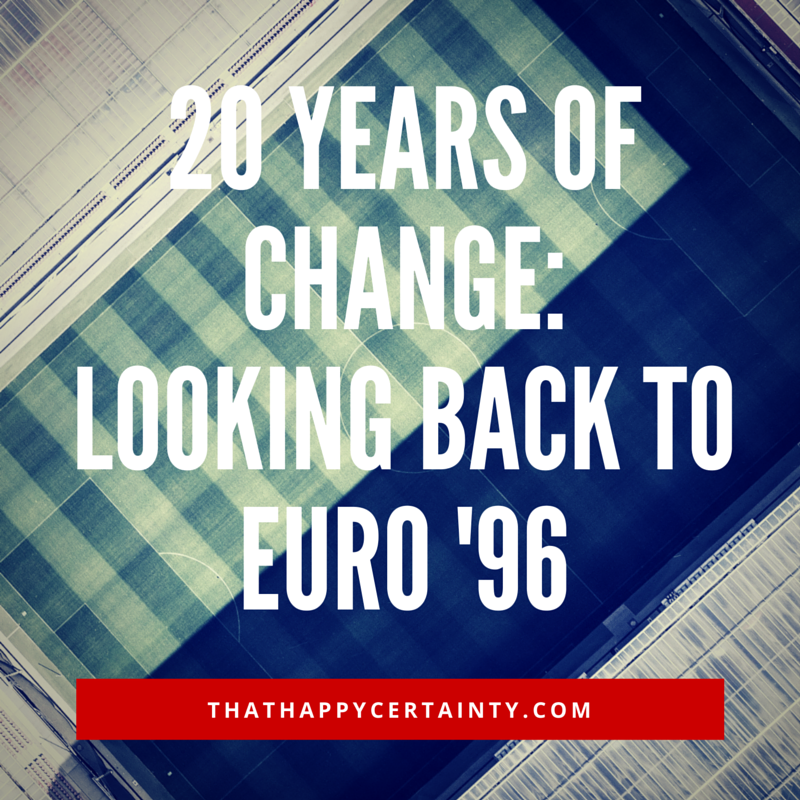 Today it's a joy to welcome long-standing mate and all-round top bloke Tom Pountain (aka Tommy P) to the blog for a guest-post on the eve of England's Euro 2016 adventure beginning…
—
Well, it's finally here! Today sees the first game of Euro 2016, as host-nation France play Romania in Paris. And as well as all the hype about where Roy should play Rooney, or if our back four is solid enough, much is also being made of the fact it's exactly 20 years since Euro '96, when the tournament was played on English soil.
If you're old enough to remember that glorious summer of old, it's well worth catching Alan Shearer's Euro 96: When Football Came Home on BBC iPlayer, where he re-lives the tournament and interviews many of the players and others involved. Here's five observations on the documentary looking back:
1. Culture has changed
I remember loving the football in '96 but I didn't understand much else going on in the world then. Looking back, it doesn't seem particularly pretty. Yes, I'm glad the curtains haircuts and cargo pants have gone, but I'm also thankful we've seen the back of much of the lad culture and hooliganism too.
2. Football has changed
Some things have changed for the better. Anyone fancy Golden Goal sudden-death again?! And thankfully we seem to have ditched the rampant drinking culture (I hope), but perhaps some things have made a change for the worse in this 'beautiful game'. You certainly don't get many no-nonsense defenders like Tony Adams or goal scorers like Alan Shearer these days (at least outside Leicester…), and why's there not been another Three Lions in twenty years?
3. Time has changed
Boy, did watching the documentary make me feel old! I'm only 30, which surely isn't that old (right!?), but maybe for the first time in my life I was looking back past two whole decades to a time that I can still actually remember well. I guess Euro '96 would do that for a lot of football fans growing up in the pre-Beckham era.
4. People have changed
20 years had taken its toll on everyone, but seeing Paul Gascoigne was gutting to watch. The awful effects of alcohol were plain to see. And although everyone knew that, it seemed they still couldn't help but laugh about his heavy drinking past. Perhaps it's not surprising how he – and others like him – fail to get the help they need when people find it so hard to be honest about the problem.
5. Some things haven't changed
Whilst looking back was hardest with Gazza, most people featured seemed to have some sense of dissatisfaction as they recalled their memories. Some players even appeared genuinely downcast as they reflected on the past. These guys achieved the things many of us can only dream of – and many would still have lifestyles that the rest of us would aspire to – and yet as they looked back they figured it wasn't enough. Something was missing.
One of the Bible writers puts his finger on this feeling:
"I denied myself nothing my eyes desired; I refused my heart no pleasure. My heart took delight in all my labour, and this was the reward for all my toil. Yet when I surveyed all that my hands had done and what I had worked to achieve, everything was meaningless, a chasing after the wind." (Ecclesiastes ch2 v10).
Perhaps like some of England's Euro 96 players, we tell ourselves the reason we remain unfulfilled is because we simply haven't been able to achieve our goals. And yet if there is a God who created us, it's no surprise that "the deepest chambers of our souls simply cannot be filled up by anything less" than him. Christianity is about the surprise of Jesus coming to do just that.
So, enjoy the footy – and enjoy re-living those memories! Here's hoping that Kane, Vardy & the gang give us a summer we'll still want to remember in another twenty years time.
For more Euro '96 nostalgia, this is a bit of fun.
—
Tom Pountain is husband to Hannah, an Aussie, and dad to Eleanor & Αbigail. Though born & bred in the UK, his hankering after living the Neighbours dream led him to Sydney to study at Moore Theological College to help tell poms the good news of Jesus.