Life Tastes Better by Terry Virgo – A Review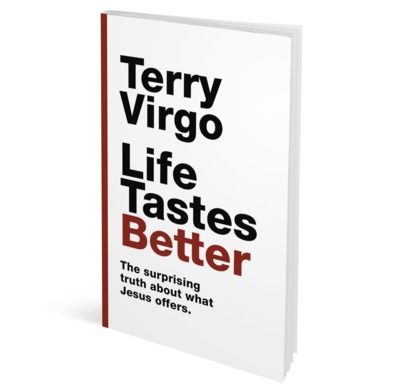 Life Tastes Better is a short and punchy new give-away book from Terry Virgo, the founder of the Newfrontiers network of churches. It's aimed at – and ideal for – those who are wanting to explore the Christian faith, demonstrating the life-changing surprise Jesus brings. Virgo's friendly and conversational tone, as well as the fact the 'book' is only five short chapters (each between 6-14 pages) mean it's a very light and inviting read.
A Christianity That Works
As the title suggests, the book is written from the angle of showing that what Jesus adds to life makes him well worth considering. This is a legitimate and helpful evangelistic approach: rather than being concerned with Christianity's objective truthfulness, many people want to know if Christianity actually 'works'. What does it bring to my life? Appealing to this instinct doesn't mean Virgo dilutes the gospel call to turn and trust in Christ, nor does it mean he promises material prosperity or the absence of suffering. And yet it did mean that the book takes a slightly different line of engagement to many of the evangelistic books I've read.
The booklet focuses in on Jesus' appearance at the wedding in Cana (John 2:1-11) and the hook is that Jesus can help us when we're running out – whether it's running out of answers, options or hope. There's not many of us who would say our lives are all sorted – so Virgo's appeal here raises interest. He grounds this helpfully in the apostle John's bigger purpose of showing that Jesus' 'signs' should lead to believing that he is the Messiah, in turn receiving 'life in his name' (John 20:31). In other words, the 'sign' of water being turned into wine in John 2 demonstrates that Jesus has an authority that means he is worth trusting with our lives.
A Jesus Full of Surprises
In the next three chapters Virgo seeks to show how this incident at Cana demolishes a number of common stereotypes about Christianity.
Firstly, in chapter 2, we see that Jesus was willing to be at this party. In other words, he is interested in the things of real life. Is this the kind of Jesus we often think of? Is this what we imagine about religion? More than that, this party is a wedding party – which leads to Virgo skilfully introducing Jesus as the Bridegroom of the Bible's greater wedding storyline. Setting this against the backdrop of a modern resistance to the commitment of marriage, we see Jesus as giving himself to us, "for richer, for poorer, in sickness and in health".
Chapter 3 was my favourite chapter. Virgo addresses Jesus' seemingly rude comment to his mother in John 2:4 ("Woman, what does this have to do with me?") and shows how it reveals the bigger truth that Jesus has not come to complete our agendas and plans. I thought this was a really powerful way of highlighting how we can all bring our own expectations to Jesus, but in effect we're trying to redefine him, expecting him to pay more attention to our hopes and goals than his. And yet Jesus wants to turn that perspective on its head:
"Acknowledging Jesus' authority to be in charge in his world unlocks the door for us to enter into a new world where he will do amazing amazing things for us."
Or to put it simply, "Jesus helps by taking over." We have been taken from our surface-level problems – or even our under-the-surface-level problems to consider that Jesus has come to put his finger in an even bigger problem.
A Life That Is Not Our Own
In the final chapter Virgo leaves us seeing the need to respond to Jesus. Reflecting on his own Christian journey, he shares that he'd been living as a Christian for a while before someone showed him that God wanted his whole life:
"I wanted Jesus to do his thing for me, but not to be in charge of me… [But] Jesus wanted to take charge – not coexist with a load of competitors. I never really understood that before, but I could feel God saying to me, Are you mine or not? I was suddenly really aware of the awesomeness of God. I want your life. Do I have your life?
This is the rub of the book: that Christianity involves a change of ownership (or at least acknowledging a change of ownership!) – but that this is for the better. As the one who can deal with our greatest need and give us peace with himself it is a much better thing for us to hand over our lives to God.
A Resource to Share
This is an evangelistic book with a lot of strengths. It is brief – surely increasingly important in our cultural moment. It is warm in tone. It is engaging – even the title and presentation seeks to connect with the reader. And yet you couldn't miss its central message, which doesn't pull any punches and leaves you fully aware a response needs to be made.
Perhaps this is a generalisation, but many evangelistic books seem to be either written in response to a particular objection or they assume substantial pre-existing Christian interest. (The exception to this would be testimony-led books, e.g. Marcus Nodder's excellent City Lives). But I wonder if this means such books can tend to come across as either just solving a logical problem, or they just struggle to engage. Either way, it makes the opportunities to give them away more niche. Life Tastes Better models something different, and it means I'm already thinking about people I'd love to hand it to.
Life Tastes Better is currently available from the publisher for £1.69 per copy here, with further discounts for bulk purchases.
—
Disclaimer: I received a free copy of this book from the publisher, but I hope this is still a fair review.