Back in early July I posted the first in a collection of online articles on the subject of biblical submission in marriage. Undoubtedly marital submission has become a really controversial area. On the one hand the same word now brings connotations of Fifty Shades of Grey-type sexual violence, even though that's describing something very different. And on the other hand, amongst many who see themselves as 'Bible-believing' Christians, marital submission is considered old-fashioned and out of place in twenty-first century Christianity. Time to ditch it?
Unfashionable though it may be, Zoe & I are convinced that God makes it plain in His word that marriage is to be a mini-picture of Jesus Christ's relationship with his bride, the church. Check out Ephesians 5:21-32. Jesus sacrificially leads His people as their Head, going to the cross for them, and His people are to submit to him. If you're a Christian then, get this, your relationship with Jesus is meant to be one of submission. This relationship is then mirrored in the mini-picture of marriage, with the husband having a specific identity as head that means he is to sacrificially lead his wife, whilst the wife has a specific identity which means she is to submit to him.
But my aim here isn't to persuade you that the Bible plainly encourages headship and submission in marriage. Instead I want to try and flesh it out in practice. This is because it's my experience that often people's horror or nervousness at the idea of submission within marriage is because they have taken on board an ugly distortion of what it is intended to be, rather than the genuine article. Therefore whereas the Bible reveals it as beautiful, instead it's often portrayed as backward, chauvinistic, and dangerous. Hopefully, by picturing headship and submission practically, these posts will also show it to be delightful. Similarly, I think those of us who are trying to live this out in our marriages can benefit from others talking us through how it fleshes out for them. You can read from Wayne Grudem in the first post from July here.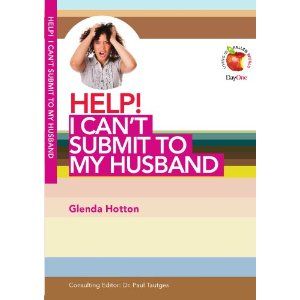 For post two, I came across a helpful piece over at Paul Tautges' Counseling One Another blog. Paul edits the very practical Day One Biblical Counselling booklets (by the way, by biblical counselling he doesn't mean the stuff of psychologists and white couches, he simply means applying the truths of Scripture to our hearts, prompting spiritual change). The range includes 'Help! Someone I love has cancer', and 'Help! I'm drowning in debt'. In another of the booklets, entitled 'Help! I can't submit to my husband', author Glenda Hotton attempts to flesh out what biblical submission looks like by targeting and correcting six common stereotypes of 'biblical submission'.
Below I've quoted from Tautges' post pretty much in full, and in turn he is quoting Hotton. Therefore its worth noting that in the first instance these have been written by a woman for women. There's obviously much more that can be said, and I'm personally aware that each of the six wrong stereotypes will also impact in wrong thinking and wrong action on the husband's behalf, but Hotton understandably majors on the women's point of view.
"Submission is not…
Submission is not… Being a Doormat – God has not given men permission to be inconsiderate of their wives or in any way to abuse them. He has not told men to do things that will be hazardous to their wives' mental and emotional health. Remember, the command to wives to submit to their husbands is followed by the command to husbands to love their wives as Christ loved the church and gave his life for her (Ephesians 5:25). Men and women are different. But not all women believe that is how God ordained it. Their thinking comes out of the teaching of the current women's liberation movement, which tells us that we have been sex-role socialized. It is taught in our secular universities that we have been programmed since childhood how to act and behave as women, thus creating a sense of inferiority. We are not inferior but equal in all ways. Equal but different! God has given men and women different roles to play in marriage.
Submission is not… About Who Is Superior – The title of "leader in the home" is not one for which we can compete, to see who is best. God said, "The husband is the head of the wife." God knows our strengths and weaknesses, and he uses all for his glory. If a husband is wise, he will seek his wife's wisdom, knowledge, and opinions. But many husbands say that they cannot use their wives' talents, efficiency, or intelligence because their wives tend to take over. It is easy to recognize wives who are more gifted in some areas than their husbands. Some are naturally adept at finances, creative gardening, decorating, or organizing. But statements like, "I'm more gifted with administration so I lead our family," can be extremely destructive for the husband who is trying to excel as leader in the home. However, I want to add that a man who is confident and secure in his role of leader in the home may recognize that his wife is gifted in such areas and may ask her to take those responsibilities. He will be proud of her help. Taking on these roles in this manner still constitutes submission.
Submission is not… Being Passive – Some women are naturally quiet and give their input very carefully, and by nature find it a challenge. If a wife, however, withholds her input because of fear or desiring peace at all costs, this is not submission. Yet there are times when a wife will choose to be quiet for a purpose—a bigger plan. Jesus, God in the flesh, is our example in all things, and in Mark 15:3–5 he gives an example of being quiet with a purpose: The chief priests began to accuse Him harshly. Then Pilate questioned Him again, saying, "Do You not answer? See how many charges they bring against You!" But Jesus made no further answer; so Pilate was amazed. Christ was not afraid to say something. He was not afraid to defend. He was not scared of what Pilate would do. He knew what Pilate could do and knew he didn't have to defend himself because God had a bigger plan. He was still in charge, but he didn't waste his words by defending himself. When a woman holds her voice for a season….this is not being passive; this is demonstrating her strength. It may appear to an onlooker that she is passive, but in reality she is exercising intelligence, discernment, and Spirit-control by presenting her concern in private when both are calm and she is prepared.
Submission is not… Determined By Who Is Right – Christians live within the parameters of scriptural principles and their own preferences. If Scripture has spoken on an issue, it [is required of] us to pay attention. But some things are what we may call "grey areas" and are subject to personal preferences. Many situations that come up in a family may not have a clear scriptural right or wrong. It is important to share our preferences, but we must remember that God works through our husbands for the good of the whole family and that our husbands will answer to God for their choices. This puts us wives in a praying position. Submission is easy when we agree with our husbands' decisions. But the test comes, of course, when they choose the opposite of what we want. This requires us to trust that God's way is the best way, and to understand that he will care for us and that true happiness comes through trusting God. He has called every wife to submit to her own husband [see 1 Peter 3:1–2].
Submission is not… A Burden to Be Borne – Rather, submission is a God-given privilege and necessity in order that homes run smoothly. A woman may take on the martyr-type stance. This wife becomes a complainer, a troublemaker, and she is very disruptive to her household. She has a "Poor me!" attitude and is a poor testimony for her Christian faith. This is not godly submission
Submission is not… A Tool to Use When a Wife Wants Something – Submission comes with no strings attached. It is a desire to please God and do what is best for the family. Most women desire the inner peace that comes from living in harmony with their husbands and obeying God. As I am writing this, words of a hymn by Fanny J. Crosby play in my mind: Perfect submission, all is at rest, I in my Savior am happy and blest; Watching and waiting, looking above, Filled with his goodness, lost in his love. This is my story, this is my song; Praising my Savior all the day long!"
What do you think? What would you want to ask Glenda Hotton? Get involved below.
Hotton's booklet can be ordered direct from Day One here.
The Dreaded S********* word: Submission fleshed out (2)