Tune for Tuesday: He Will Hold Me Fast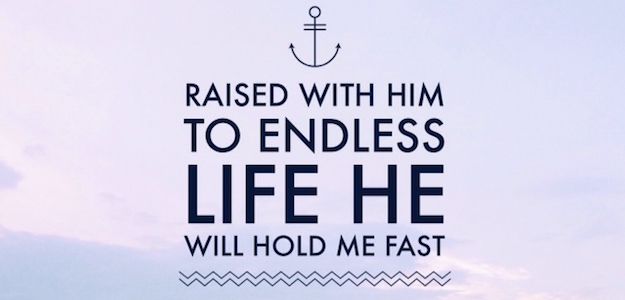 In our series on the Lord's Prayer at Grace Church Barrow we have just looked at Jesus' final line:
"Lead us not into temptation, but deliver us from the evil one."
I shared how I think Jesus invites us to pray this prayer to keep us humbly trusting in our heavenly Father for spiritual protection. It is a prayer to keep us leaning in to Jesus, rather than trusting in ourselves.
The two twin-dangers that I think this prayer helps us guard against are:
forgetting that there is a battle on: we need this line of the prayer to open our eyes to the reality that there is an 'evil one' who would love us to stop trusting in, enjoying, and being transformed by Christ.
forgetting that the war has been won: and yet whilst the battle rages, Jesus has defeated the devil through the cross, and so the way to resist the evil one is by resting in that victory. The war has ultimately already been won, and so we fight in these skirmishes by trusting afresh in Christ.
To help us respond to this, we sang He Will Hold Me Fast, an updated and adapted version of an old hymn.
Apparently the first two verses were penned by a lady called Ada R. Habershon who lived in the late nineteenth-century. Matt Merker, from Capitol Hill Baptist Church in the US, has re-set it to music and penned a third verse to ground our assurance in the reality of Jesus' death and resurrection, as well as adding a chorus.
It begins with this opening verse, which I think gets at the heart of the line of the Lord's Prayer we were looking at:
When I fear my faith will fail
Christ will hold me fast
When the tempter would prevail
He will hold me fast
I could never keep my hold
Through life's fearful path
For my love is often cold
He must hold me fast
I particularly like this recording from the Norton Hall Band at Southern Seminary in Kentucky:
Keith & Kristyn Getty have also recorded the track and for them it reminded them of the hymn, "We Rest on Thee" (which inspired the missionary Jim Elliot and the title of his biography, "Through Gates of Splendor"). As you can hear, they've worked the Finish melody, "Finlandia," also the melodic basis of the hymn, "Be Still My Soul," into their recording:
A free download from Matt Merker is available here, as well as chords and sheet music etc.