Where Was God When That Happened? – Interview with Christopher Ash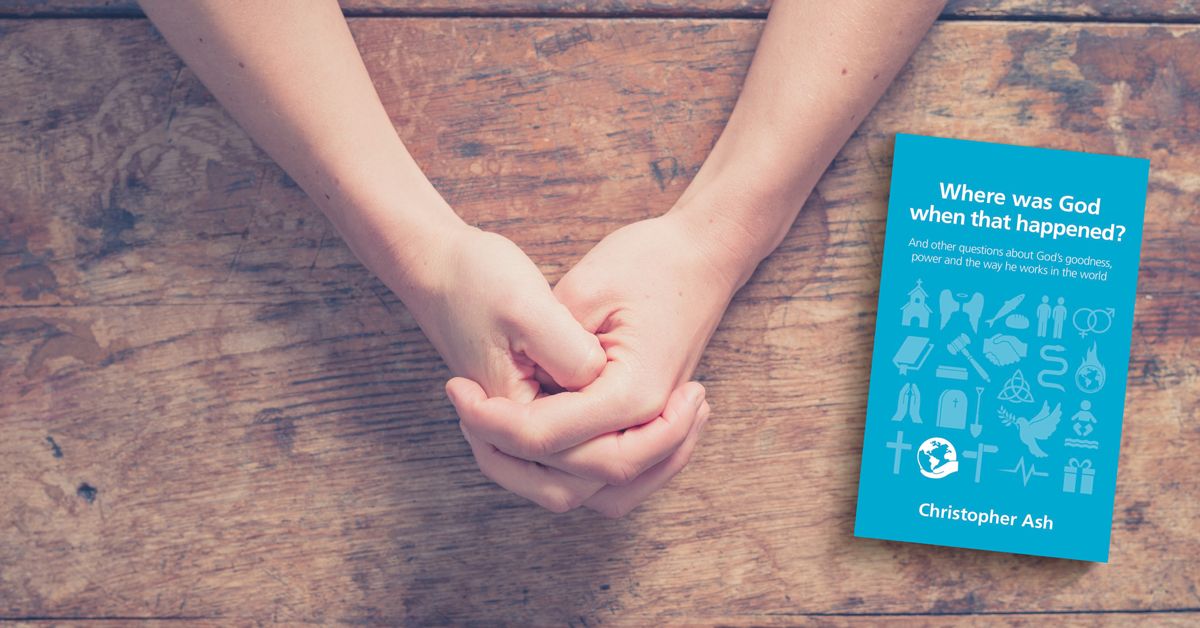 One of the children's songs I remember best from growing up has the line, "He's got the whole world in his hands". But sometimes the stark reality of life going on around us can make us question whether that's really true. Whether it's some disaster or crisis happening in the world 'out there', or a personal tragedy closer to home, we can begin to question whether God is really good – or whether he's actually in control.
And so I think it's great that pastor & writer Christopher Ash has written a new book, Where Was God When That Happened?, engaging with some of these issues. It comes in The Good Book Company's bitesize Questions Christians Ask series, and Christopher kindly took the time to answer a few questions about relating to God – and to each other – when events  make us question God's grip on the world.
First-off, for those who don't know you Christopher, could you tell us a bit about yourself?
God kindly enabled me to hear and respond to the gospel as a teenager, while in the sixth form at school. I was shaped by excellent nurture in Christian summer camps (what is now Titus Trust) and then learned practical ministry as a teacher in two secondary schools before training to be a pastor. I am married to Carolyn and we have been entrusted with three sons and a daughter, all now grown up, and three grandchildren. After serving as an Assistant Minister in Cambridge and leading a small church plant, I was responsible for the Proclamation Trust's Cornhill Training Course in London from 2004-2015. Carolyn and I are now back in Cambridge, where I am self-employed as "Writer in Residence" at Tyndale House and "Ministry Trainer" at St.Andrew the Great church. I enjoy playing tennis and don't so much enjoy supporting Swansea City F.C. (this season so far!).
The book is about a subject that could be very personal, as well as one that's inevitably theological too. What led you to write this book?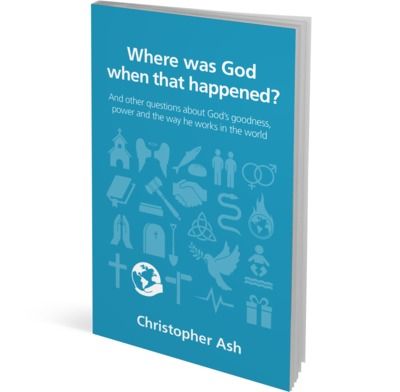 It is not that I have experienced any great suffering, but rather that, in Christian pastoral work, you are so often alongside brothers and sisters who are going through tough times. I have had some myself, though pretty mild by comparison to others. Studying, preaching, and writing about the book of Job (Job: the Wisdom of the Cross and Out of the Storm) have helped me grapple with these deep questions both theologically and experientially.
In your experience, what stops us as Christians from believing God is really in control?
Well, we believe it in theory. We tick the "I believe God is in control" box. But when we are blind-sided by some shock, we forget what we believe. The suffering, disappointment, trauma, or distress numb our feelings and confuse our thoughts, so that our emotions are in such turmoil that what we know gets archived into some backwater of our consciousness. At least, that is what I find. It is pathetic really, but I may not be alone.
How can we learn to trust God more in the midst of situations that seem awful and contrary to life as it was created to be?
I think we need one another in this, as in so much of the Christian life. Although I ought to preach the truth to myself, I find I need brothers and sisters gently to tell me, remind me of what I already know in theory. And I should learn to do this with others. We need a brother or sister to come alongside us, pray for us, listen to us, be patient with us and gently turn our gaze from the destructive inwardness of self-pity into the faith-building focus on the promises of God.
What would you say to someone who feels like they can't begin to grasp how God being in control of a horrific situation could ever come out well for God, or be something to celebrate?
I might not say anything much to start with, but I hope I would listen and pray. But what I want to say is this: don't worry about grasping it, let alone celebrating it; it's true whether or not you grasp it. Your security in the love of God does not depend on your grasping it; God the Father loves you with an unchanging love in Christ (and your or my erratic or even desperate feelings cannot change that). The time will come – most likely at the end of time – when we will freely and gladly celebrate; but let's not worry too much about that now. Otherwise feeling we ought to understand and celebrate becomes just another burden to bear.
What advice would you give to those seeking to be faithful friends to those who are facing tragedy?
Be patient, be practical, be kind. Don't pretend you understand their suffering, let alone why God has done it. Reassure them of the goodness and love of God in the Lord Jesus. Point them to the Cross. Above all, love them and let them know that you love them.
Lastly, did anything surprise you about writing this book?
I think the need for patience. Maybe I expected the bible answers, and in a way I think I have found and summarized them. But the whole thing of time – God's instrument to work patient perseverance in us. In a hurried culture, I think that surprised me and corrected my hurry.
Thanks for asking me. I hope my reflections will prove helpful to someone.
Christopher, thank you very much for your time – both in sharing your reflections here, and in writing this book.
You can pick up a copy of Where Was God When That Happened? from the publisher here. At £3.31, it's a bargain – and you can pick up ten for less than £3 each.