App Review: Daily Readings (Spurgeon, Ryle & Hymns)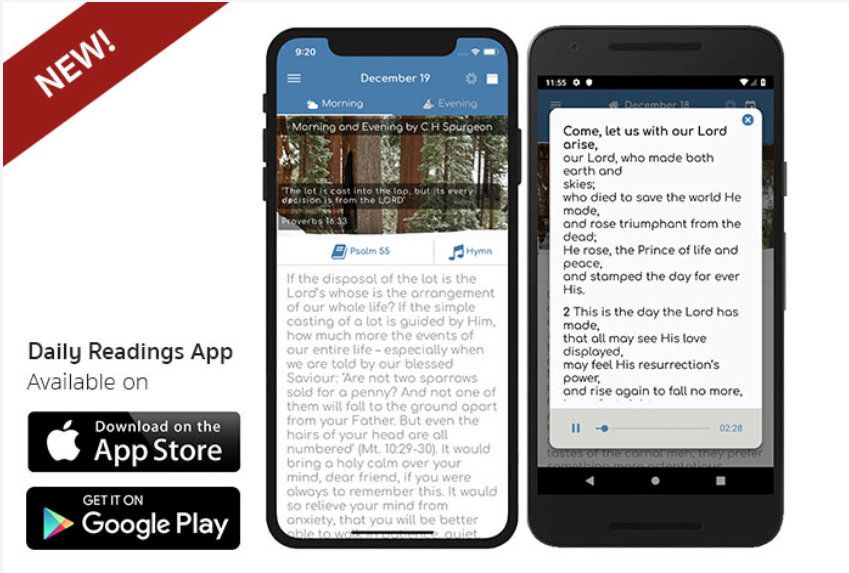 Spurgeon In Your Pocket
Despite a slightly uninspiring name (Daily Readings), this is a delightful little app bringing you cherished daily wisdom on the Scriptures, as well as the chance to sing along to treasured hymns.
DAILY READINGS:
Apple/Android
Free
A joint project of Christian Hymns and the Evangelical Movement of Wales, Daily Readings provides the user with daily morning and evening Bible readings and reflections from two of British evangelicalism's most respected pastors: Charles Spurgeon and J.C. Ryle.
Spurgeon and Ryle
Both Spurgeon's Morning and Evening reflections and J.C.Ryle's Expository Thoughts on the Gospels have edified countless Christians since their release in the 19th century. Pithy, perceptive and practical, now they're readily and freely available through this app.
Simply open it up and you'll be presented with the day's devotional, with the option of switching between Ryle and Spurgeon (and for him, both morning and evening). Advocates of Morning and Evening will know Spurgeon tends to focus on a verse or part thereof, so there's also an optional additional Bible reading for those who want more. The app has the ESV Bible text built-in and offers a helpful and applicatory 'For Thought and Prayer' section at the end of each reading too.
A Daily Hymn
But perhaps the unique aspect is the daily hymn for each reading. Click through and you'll be presented with lyrics and the option of playing an instrumental accompaniment. This is clearly a labour of love.
The whole Daily Readings app interface has been well designed to be both aesthetically pleasing and easy to use, with a clean font and simple colour scheme. Spurgeon has been 'lightly modernised' and the app is actually a real gem.
I was more impressed than I expected from this app. It makes Spurgeon and Ryle highly accessible, and if you're particularly familiar with hymnody, this is well worth downloading.
More info on Daily Readings here.
–
A version of this article was first published here in the March 2021 Issue of Evangelicals Now and is shared here with permission. EN is a monthly newspaper published in print and online, offering a biblical perspective on current issues and insight on what's happening with God's people worldwide. Online subscription is just £10 p/a with print & online combined for just £18. Order a free sample or subscribe here.