Take Heart by Matt Chandler – A Review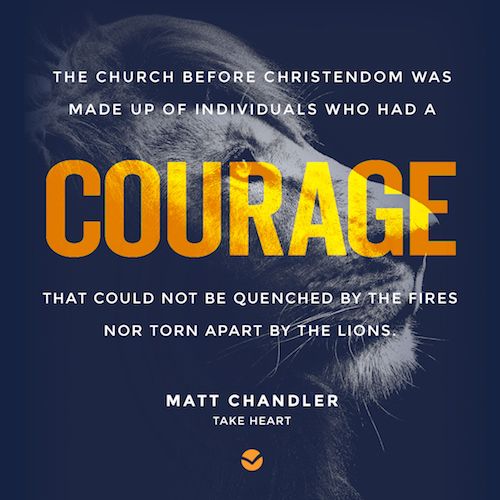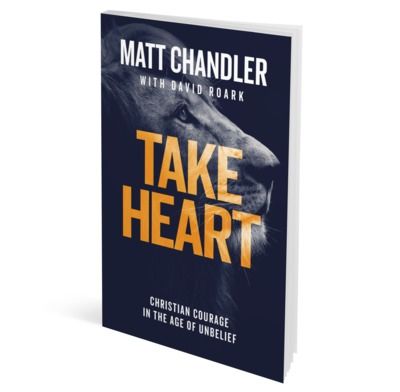 The Age of Unbelief
If you hadn't clocked it yet, those of us in the West are living in an 'age of unbelief' – a season when Christian beliefs and ethics are being publicly pushed to the sidelines of life, with the claim they are out of date, out of touch, and even – made with increasing frequency – that they are hateful and dangerous. Like it or not, that's our situation as the Western Church. And so it's essential that we decide how we're going to respond to this situation. Take Heart is Matt Chandler's contribution to that debate.
Matt, 43, has been pastoring at the Village Church in Texas since 2002 – a good innings, by any standard. He now holds the role of Lead Pastor of Teaching at the Village Church in Texas and President of the increasingly influential and international Acts 29 church-planting network. I first came across Matt when he spoke at Oak Hill during my time there. Reading Take Heart is like hearing Matt speak: he is engaging, witty, and has an unassuming authority that flows from his passion for Jesus Christ.
We All Respond
By the way, I described Take Heart as Matt's contribution to the 'debate' about how Christians should respond to these changing times, because it doesn't take much to realise there's a few different responses being advocated. In a real sense, we all respond – the question is whether we do it consciously or unconsciously, and whether its with theological conviction driving our response – or by way of knee-jerk pragmatism. Chandler summarises the three most common responses as:
Converting culture, i.e. putting our efforts into ensuring our countries reflect our Christian values, especially politically and legally, and so re-establish Christendom.
Condemning culture, i.e. removing ourselves from the culture and setting up a sub-culture where we are protected from the influence of the world around us.
Consuming culture, i.e. accommodating ourselves – in beliefs and ethics – to the culture around us. In other words, we change to fit in, because we belief that's how we will stay relevant.
As you mull these over, you start to see how these approaches play out in different ways. So take something like the changes in laws regarding so-called 'equal marriage'. Some Christians will argue it's critical we don't change our nations' laws, even if the majority of the population wants us to. Some will flee the public square and just batten down the hatches: the world is moving in and we just need to stay faithful. Some will say we need to change the Church's position on sexuality and marriage, in order to stay relevant.
Chandler is concerned that all three of these responses have something in common: they are all "born of fear". And so he puts forward a fourth option, which he describes as a "posture" of courage:
"I'm convinced that if we have a God-sized, God-given courage, then we will be freed up to be the people of God, living out the mission of God, marked by the joy of God. With courage, this season of history can be viewed not with fear or trepidation, but instead with hope and a sense of opportunity."
Some might want more caveat in Chandler's analysis of the flaws of Christendom, but it's hard to argue with his desire to challenge nominalism. And without a doubt, it's encouraging to read a book that is so positive. Chandler believes the Church can thrive.
How do we get to courage?
Chandler is not trying to whip us into some paper-thin triumphalism. He quotes the author James Neil Hollingworth, who observed that, "Courage is not the absence of fear, but rather the judgment that something else is more important than one's fear." And so courage comes from re-discovering a big God:
"We've spent years telling each other, You can do it. You're so great. Be yourself. Find yourself, Believe in yourself. Our teaching and advice has been based more on the false wisdom of our world than the true wisdom of the word. And that means we've ended up trying to run a marathon on cotton candy. We've tried to be bold in the day of war while eating Twinkies."
In particular, Chandler argues we need to rediscover the biblical portrayal of God as a warrior, citing Exodus 15:3.
The Fight of Your Life
I have to admit, at first Chandler's choice here surprised me. If I was going to write a book about how Christians are to live amidst a culture that – at the best of times – is confused about the Christian faith, and – at worst – is hostile to the Christian faith, then my instinct would be to avoid describing God as a warrior! Isn't this just the Religious Right on steroids, a return to the crusades and Christian jihad?!
But here Chandler is careful to say that the way God 'wars' is by fighting for the good of his people. Building on the work of theologians Tremper Longman III and Daniel Reid, Chandler gives us a Bible overview of God as warrior, showing that God is fighting a cosmic war, not against people but against his great enemy, Satan, and winning the victory – through the cross – to give his people a relationship with him in a perfect world of shalom.
In other words, as we live amidst increasing marginalisation, the Church can trust we're on the right side of of history, because God is the History-Maker. He's in control of where things are going. This isn't a call to violence, but to compassion and proclaiming the cross. Thriving doesn't mean having unrivalled popularity or holding great cultural power, but rather having a sense of confidence in the face of opposition and side-lining, because we know that life is playing itself out on God's backdrop.
How Courage Plays Out
In the last few chapters Chandler seeks to ground courage in the practical. He covers holiness, devotion and evangelism, and spends the most time making the case that the latter needs to be done in the context of hospitality. Rather than the fear-driven responses that Christians are sometimes known by ("marching, debating, writing"), the extent of our courage will be shown "by who sits round your table".
It's a compelling picture of Christians committed to loving people and opening up their lives and homes. He acknowledges that though the marginalisation of Christians may be happening at the level of public policy and media narratives, the reality is that individuals are still spiritually intrigued by the Christian faith. Showcasing the gospel through generous and winsome lives is always going to be powerful.
How do you like your eggs, Benedict?
Despite Chandler's denial that he's trying to present some "fresh strategy", it's hard not to read Take Courage without thinking it's in part a response to the likes of Rod Dreher's much-discussed Benedict Option. Dreher's approach, inspired by the founding of the Benedictine Order, can come across as one of fearful retreat from the culture, rather than the positive, outward-facing approach of Take Heart. I suspect there'd be much that Dreher and Chandler would agree on: the cultural analysis of where we stand for starters, as well as the need to guard the gospel and the importance of creating Christian communities (church!) and families where we 'learn the gospel' and grow in gospel confidence. But as David Robertson commented in his review of Dreher's book:
"I need to be in the world, but not of it. I need to live with people who are dead in sins and trespasses. I need to live, eat, work and share with those who are the enemies of God. The only thing I must not do is worship with them, ignore them or hate them."
Courage, Dear Heart
Admittedly in the UK we don't have the same political 'Religious Right' – complete with its increasingly depressing loyal association to Trump. In that sense, the pressures are different. But in the Church of England, we do have an established Church, which brings its own pressures. For example, after the C of E's General Synod voted against the motion to have female bishops back in 2012, there was outrage in the House of Commons and the then PM David Cameron infamously urged the Church to 'get with the programme'. Whatever you think about the roles of men and women in ministry, should it really be the government's opinion that drives our decision-making as a Church? Whose 'programme' is the Church signed up to? But of course it's hard to resist that if you're the official church of the land, with Bishops seated in the House of Lords.
And so we need books like Take Heart that give us a big view of God and call us to be bold and to be strong – even amidst our weakness – for the LORD, our God, is with us. A minor quibble was that each chapter seems to take its launching point from a different Bible passage, whilst still trying to build up a fairly chapter-by-chapter connected argument: Romans takes us to God's bigness; Exodus – and a Bible overview – shows us God as warrior; 1 Peter becomes lesson about standing on grace, etc. Occasionally this felt slightly disorientating; sometimes I felt I was only just settling down before we were moving on.
Writing with his colleague David Roark, Chandler has given us a handy and compelling tonic to revitalise drooping heads and sapped hearts. And because Take Heart is an easy read, a fairly slim paperback with seven punchy chapters, I'd be happy to commend it to folk who aren't big readers. And of course I'd be delighted if Chandler's positivity and courage rubbed off. As he says, "marginalization is the space where we find out where our lives and our allegiances really lie … we're now back in the place where we have always flourished best."
If you want to get more of a flavour of the book, then here's 25 quotes from Take Heart.
You can also watch Matt talking about the vision behind the book below:
Disclaimer: I received a free copy of this book from the publisher, but I hope this is still a fair review. You can pick up a copy of Take Heart from the publisher using my affiliate link here.