'This Is Awesome Cutlery' Album – A Review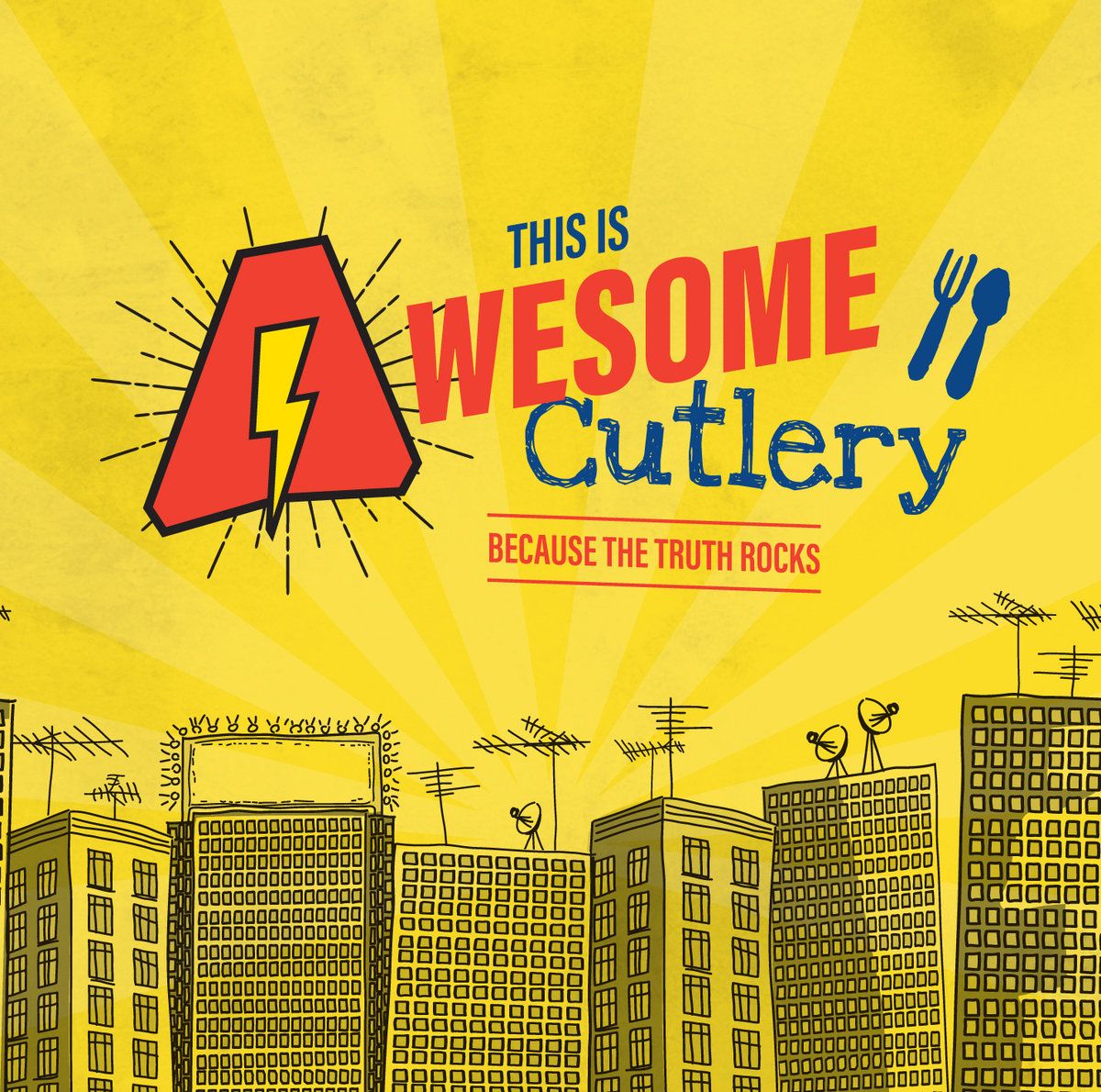 This Is Awesome Cutlery is the best Christian family album that you've probably never heard of.
If you're a Christian parent who's looking for a fun CD to put on in the car or the kitchen, that helps your family know Jesus better and love him more, then you need look no further than this (sort of) self-titled debut album from Awesome Cutlery. Big chat? Let me make my case…
Ok, first-off, you're probably wondering what's with the strange name. Awesome Cutlery consists of two "super(ish)heroes," Captain Awesomeness and Cutlery Boy, hence Awesome Cutlery (I'll leave you in suspense as to how exactly those names translate into super powers). But behind the masks, AC is made-up of duesome twosome singer-songwriters, Dan Adams and Gareth Loh. Together they've created a fab collection of twelve family-friendly songs, often delightfully energetic and cheerful in nature, interspersed with six 'sketches' in which our two heroes interact and 'tee up' some of the big truths about God which are then picked up in the music.
And if you're thinking, "ok, Christian album: predictable lyrics and monotonous budget-level music," then I'm pretty confident you'll be pleasantly and significantly surprised. For a start, Loh and Adams don't half know how to write a song. We've all bought albums where there's a couple of catchy songs cased in a fair amount of chaff, but that's not what's going on here.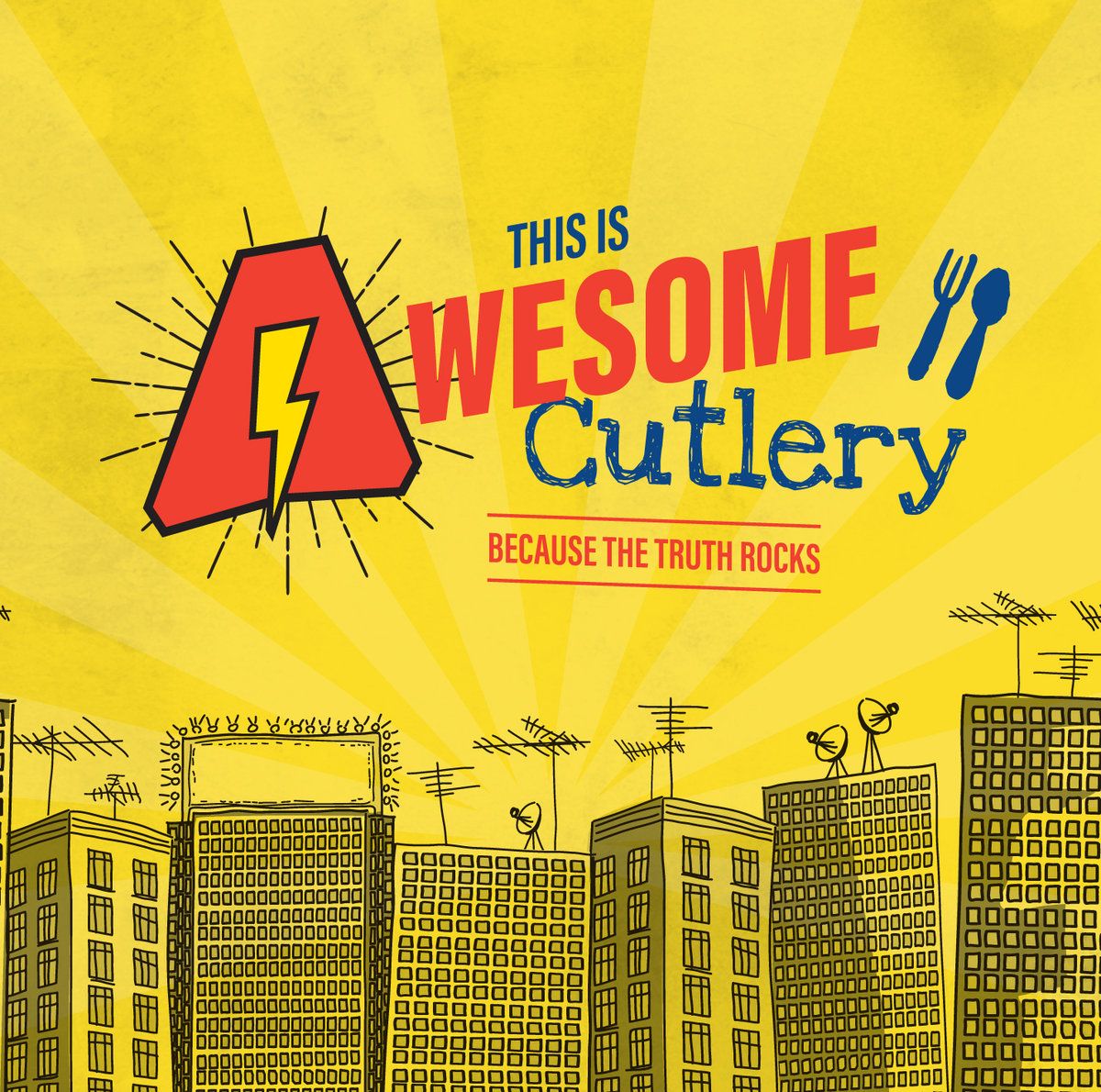 In fact, there's so many stand-out tracks that our personal 'family favourites' keep on changing: there's the hilarious 'God Made Everything', which manages to thank God for everything from aardvarks to tutus (as well as "cranes, brains, and mainframes"); there's the surprisingly anthemic 'It's a New New Day', which is often the opening track for many an early morning car journey in the Ham household; there's the super-catchy 'It's a Light and Hammer', a punchy-pop celebration of the power of God's word.
But it's not just the totally memorable melodies. The production and instrumentation throughout the album is absolutely fantastic, and it just works together to create a really strong and varied sound. Credit where credit's due to the production team of Dan & Will Weeks, who have done a thoroughly impressive job.
And then there's the way in which the album soaks you in a really rich and glorious vision of God. For example, Mrs H reckons 'Father You Are King of Heaven' is "the best thing" she's ever heard on the topic of prayer, because, to use her words, "it actually makes me want to pray". Here's a snippet:
It's like an earthworm trying to do press-ups, it's like a potato trying to swim; it's like a mountain trying to brush its teeth, when we don't rely on him.

When we pray we trust our Father, that's what Jesus said; so I'll stop trusting in myself and pray to God instead.
It's typical of the album: fun lyrics that don't shy away from meaty theological truths, but all the while presenting them through totally singable tunes and thoroughly understandable language. Another example is Justified, which reflects on the wonder of the doctrine of justification by faith (in other words, that because of Jesus' death for us, it's not just that our sins are forgiven but that we're clothed in Christ's righteousness). You'd instinctively think that would make for a rather stodgy kids' song, but AC put it beautifully simply: "Justified, justified; it's just as if I lived Jesus' life".
It's really no exaggeration to say that since we got this album at Christmas it's been an almost permanent feature in the car CD player, and that's down to the grown-ups as much as the kids. The only frustration is we don't have a second copy for the house.
In conclusion, I was trying to put my finger on why I love this album so much. Yes, there's the really bouncy, creative, and diverse sound. Yes, there's the way they manage to clearly and attractively capture theological truths that many a theologian and church minister have made a muddle of. All excellent virtues for a Christian album, in my book. But I think what I've especially enjoyed about Awesome Cutlery is that Dan & Gareth have created such a fun listening experience to share together as a family. They're never trite or patronising in tone, and they manage to steer away from cheesiness too. I think it's the irresistible way they evidently don't take themselves too seriously, as they portray these slightly silly but totally lovable characters who explore who God is and how we can trust him.
As Captain Awesomeness says in one of the sketches, "that's blown my mind and my heart."
You can download the eighteen-track album for £8, or order a CD for a tenner here.
Here's a little sample: